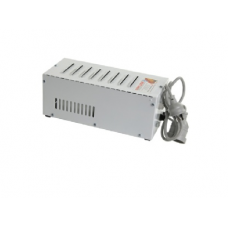 Grow Lush Magnetic Ballast


The Grow Lush heavy duty magnetic ballast is a long lasting vented metal cased ballast suitable for both MH and HPS lamps. With its straight forward easy plug and play 220/240 volt supply has the highest level of insulation of Class-H and a safety protection feature for peace of mind used by professional gardeners and hobbyist for its superior lumens output and durability.
Some of the features of this amazing product include:
220-240 VAC input voltage

50 Hz Input Frequency

2.80 Amp Run Current

10.00 Amp Start-up Current

Thermal protection

External fuse protection

CE certified

Long Distance Ignition
1 year full warranty
This innovative product is used to accelerate floral growth and development for optimal chlorophyll production. It also increases the weight of the fruit as well as the quantity.
Directions for use:
Follow the directions per the specific wattage of your Glow Lush Magnetic Ballast and per your specific type of plant. One bulb will suffice for the entire growth process so you won't have to change sources during the flowering cycle.
Grow Lush Magnetic Ballast