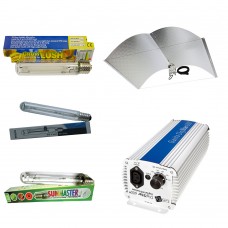 ENFORCER REFLECTOR
This is our new "budget priced" range. Reflection is approx 86% & guaranteed to maintain its full reflection for a minimum of 3 years… Probably good for 5+ years of continual use but we can't 100% guarantee that.. These reflectors work extremely well for the price you pay. Great way for customers to try out our designs without committing to the more expensive Avenger range straight up.
Low Cost for High Reflectivity
Control "Hot Spots" by attaching a "Super-Spreader"
EFFECT
Twice the power and efficiency of most other reflectors in the global market
Increase the growing Area under each lamp by up to 75%
Increase Yield per Lamp up to 50%. Reduce heat, Save powerGAVITA DIGISTAR BALLAST
Digistar adjustable electronic ballasts guarantee mximum light output, they operate completely cool, silent and safe and are more efficient than magnetic ballasts. Digistar ballasts have an adjustable output power, this feature allows you to dim and boost the lamp or use different lamp powers with the same ballast, for example a 400w lamp for vegetative growth and a 600w lamp for flowering.
Like all lighting equipment in the E-series the Digistar is compatable with the brilliant Gavita Master Controller.

The Gavita Digistar E-Series consists of two digital ballasts:
Gavita Digistar 400E
High frequency digital ballast

Suitable for high frequency HPS/MH 250/400w lamos only

Compatable with Gavita Master Controller

Control range 50%-110%

Lamp settings 250w/275w/400w/440w

Gavita Digistar 600E
High frequency digital ballast

Suitable for high frequency HPS/MH 400/600w lamos only

Compatable with Gavita Master Controller

Control range 50%-110%

Lamp settings 400w/440w/600w/660w

600w Gavita Digistar Enforcer Grow Light Kit