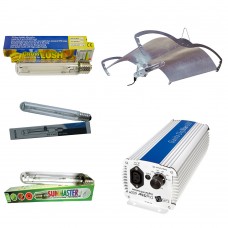 MANTIS REFLECTOR
The Powerplant Mantis Reflector is designed for use with any horizontally mounted HPS or MH lamp. Simply hang the reflector over the centre of the grow-space at an appropriate height using easy rolls or jack chain. Holding your lamp with a clean cloth insert it into the E40 bulb-holder in the Diamond Reflector and screw it in very firmly. Plug the lead into an appropriate ballast for HPS/MH type bulbs or an IEE (kettle type) mains lead for fluorescent type bulbs and switch on. It is advisable to switch off your light and allow the lamp to cool down prior to adjusting either side of the Mantis Pro in order to avoid any accidental burns or damage.
Powerplant Mantis ReflectoR dimensions: Length - 600mm, Width - 700mm
GAVITA DIGISTAR BALLAST
Digistar adjustable electronic ballasts guarantee mximum light output, they operate completely cool, silent and safe and are more efficient than magnetic ballasts. Digistar ballasts have an adjustable output power, this feature allows you to dim and boost the lamp or use different lamp powers with the same ballast, for example a 400w lamp for vegetative growth and a 600w lamp for flowering.
Like all lighting equipment in the E-series the Digistar is compatable with the brilliant Gavita Master Controller.
The Gavita Digistar E-Series consists of two digital ballasts:
Gavita Digistar 400E
High frequency digital ballast

Suitable for high frequency HPS/MH 250/400w lamos only

Compatable with Gavita Master Controller

Control range 50%-110%

Lamp settings 250w/275w/400w/440w

Gavita Digistar 600E
High frequency digital ballast

Suitable for high frequency HPS/MH 400/600w lamos only

Compatable with Gavita Master Controller

Control range 50%-110%

Lamp settings 400w/440w/600w/660w

400w Gavita Digistar Mantis Grow Light Kit