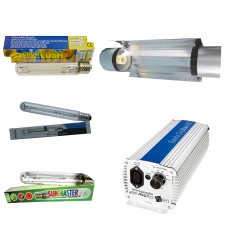 COOLTUBE REFLECTOR
These lighting kits feature the Coolshade reflector which is arguably the most effective air-cooled reflector on the market. Its simple design enables extremely efficient air throughput and great cooling. The reflector has been recently redesigned to include a reflector attatchment that better spreads the light. To use this reflector you would need to employ a suitable extractor fan. Which fan to use would depend on how you intend to use the Coolshade:
The best way to use Coolshade lights is to get an extra extraction fan that just runs the light. You want to use this fan and some suitable ducting to get the coolest air possible, move it through your Coolshade and then extract it out and away from your growing environment so you don't then recycle the hot air. Use the info below to select a fan for use with your coolshade light.
Single Coolshade: RVK125 or RVK150A1
Two Coolshades: RVK150A1
Four Coolshades: RVK150L1 or RVK200A1
GAVITA DIGISTAR BALLAST
Digistar adjustable electronic ballasts guarantee mximum light output, they operate completely cool, silent and safe and are more efficient than magnetic ballasts. Digistar ballasts have an adjustable output power, this feature allows you to dim and boost the lamp or use different lamp powers with the same ballast, for example a 400w lamp for vegetative growth and a 600w lamp for flowering.
Like all lighting equipment in the E-series the Digistar is compatable with the brilliant Gavita Master Controller.
The Gavita Digistar E-Series consists of two digital ballasts:
Gavita Digistar 400E
High frequency digital ballast
Suitable for high frequency HPS/MH 250/400w lamos only
Compatable with Gavita Master Controller
Control range 50%-110%
Lamp settings 250w/275w/400w/440w
Gavita Digistar 600E
High frequency digital ballast
Suitable for high frequency HPS/MH 400/600w lamos only
Compatable with Gavita Master Controller
Control range 50%-110%
Lamp settings 400w/440w/600w/660w
400w Gavita Digistar 5" Cool Tube Grow Light Kit