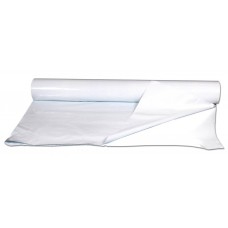 Blackout Lightproof Sheeting
Blackout Lightproof Sheeting is a triple layered grow-sheeting having a white reflective surface on each side and a layer of black sheeting in-between. The outside white layers efficiently reflect light back into grow-areas while the layer of black sheeting in-between prevents light leaking through the sheeting from one side to the other.
Using Blackout Lightproof Sheeting:
Blackout Lightproof sheeting is highly versatile and can be used to separate 2 grow-spaces with different light/dark periods in the same area, preventing light from one grow-space leaking into another while efficiently reflecting light back into the grow-spaces on each side. Blackout Lightproof sheeting can also be used as normal reflective sheeting. Blackout Sheeting can be hung around your grow space and indeed anywhere in your grow-room – on walls, even on the ceiling, in fact anywhere that light needs to be reflected back towards the garden. Blackout Lightproof Sheeting can also be used over windows etc. to prevent light escaping from your grow-room.
Please note: In order to keep the delivery cost to you down to a minimum, this item is taken off the roll and folded to fit into our packaging.
Blackout Lightproof Sheeting