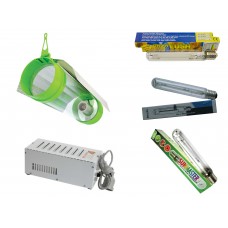 600 Watt 5" Cool Tube Grow Light Kit
The 600w 5" Cool Tube grow light kit is the most effective way of cooling down a grow room the magic is from a cool tube reflector that connect to a extractor fan that takes the heat directly from the grow lamp away from the growing area via ducting resulting in a cooler area for your plants.
The best way to use Cool Tube lights is to get an extra extraction fan that just runs the light. You want to use this fan and some suitable ducting to get the coolest air possible, move it through your Cool Tube and then extract it out and away from your growing environment so you don't then recycle the hot air.
If you simply can't afford an extra fan or space won't allow for it you can run your main extraction fan through the Cool Tube reflector but this would be less effective as the air would already be warm. FOR BEST RESULTS USE A SILEO RVK150A1 EXTRACTOR FAN
Grow Lush Magnetic Ballast


The Grow Lush heavy duty magnetic ballast is a long lasting vented metal cased ballast suitable for both MH and HPS lamps. With its straight forward easy plug and play 220/240 volt supply has the highest level of insulation of Class-H and a safety protection feature for peace of mind used by professional gardeners and hobbyist for its superior lumens output and durability.
Some of the features of this amazing product include:
220-240 VAC input voltage
600 watts output
2.80 Amp Run Current
Thermal protection

External fuse protection

CE certified

Long Distance Ignition
1 year full warranty
5" Cool Tube Reflector


The LUMii Cool Tube is the latest inline air cooled reflector. This innovative product, when used in conjunction with ducting and a extractor fans, allows air to flow through the reflector helping to control the environment temperature.
Simple and very effective way of ensuring you chosen lamp runs cool enabling it to be positioned directly above the plant without the risk of heat damage.

These brilliant light fittings take 90% of the heat away from your plants so you can control your environment easily and achieve maximum rated lumen delivery from your lamps.

just attach a new or to your existing fan to air cool these lights.
Most lamps should be mounted at least 10" above plant canopy to reduce chance of scorching. Now you can let your plants touch the glass of this reflector without the worry, watch your flowers burst with life as they soak up all that normally wasted high lumen light.
Top tip:
If you run 2 rooms then run 1 at night and one in day , vent heat from lights into room that's off to sustain constant temps.


600w 5" Cool Tube Light Kit Includes:
600w Grow Lush Metal Case Ballast




5 Inch Cool Tube Reflector
Choose Of Lamp:
600 Watt 5" Cool Tube Grow Light Kit